DevRelCon Prague 2022 Recap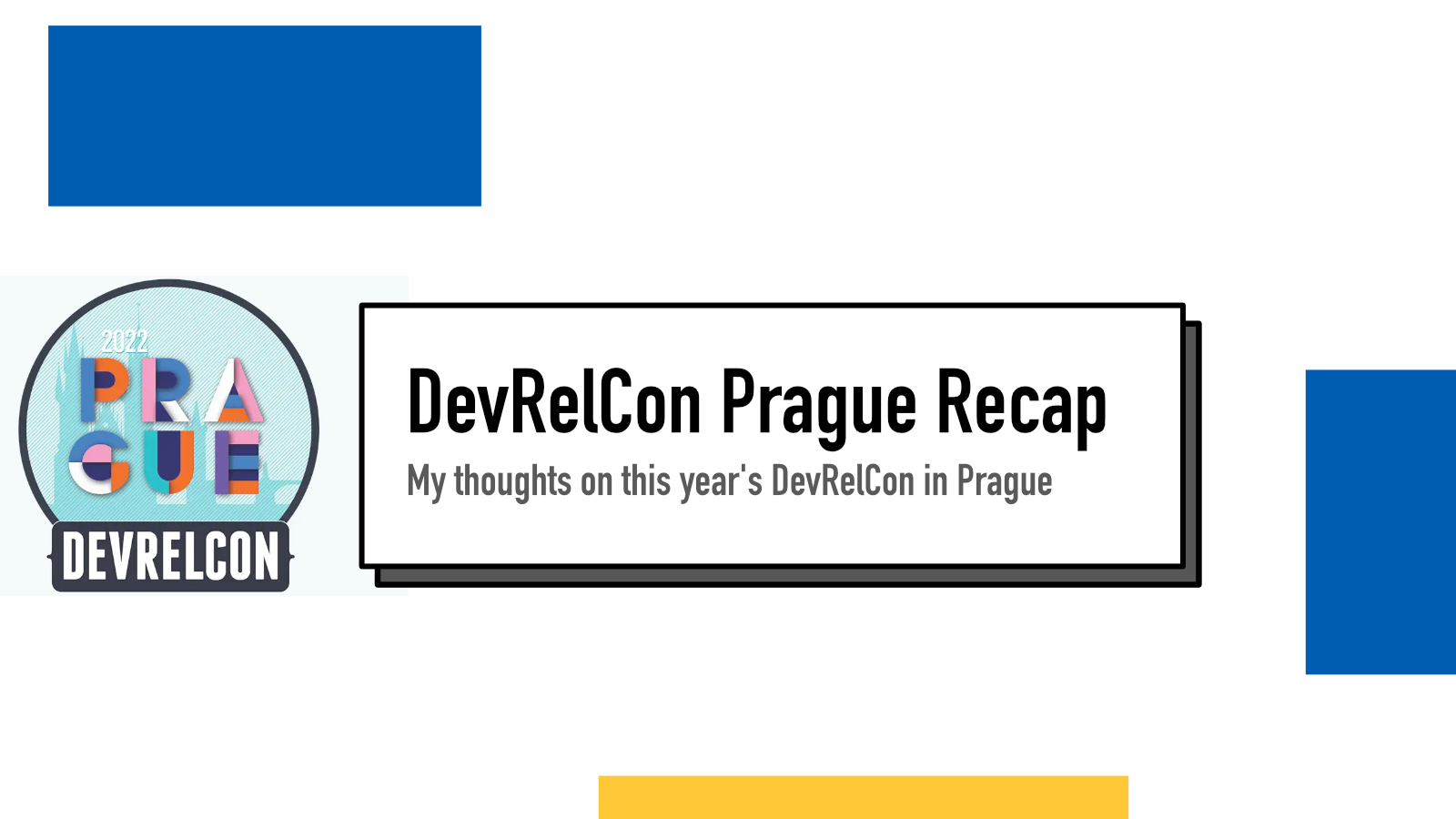 I got to spend a lovely week in Prague to finish off the adventurous year of 2022. And it was amazing, both for the trip and for the conference.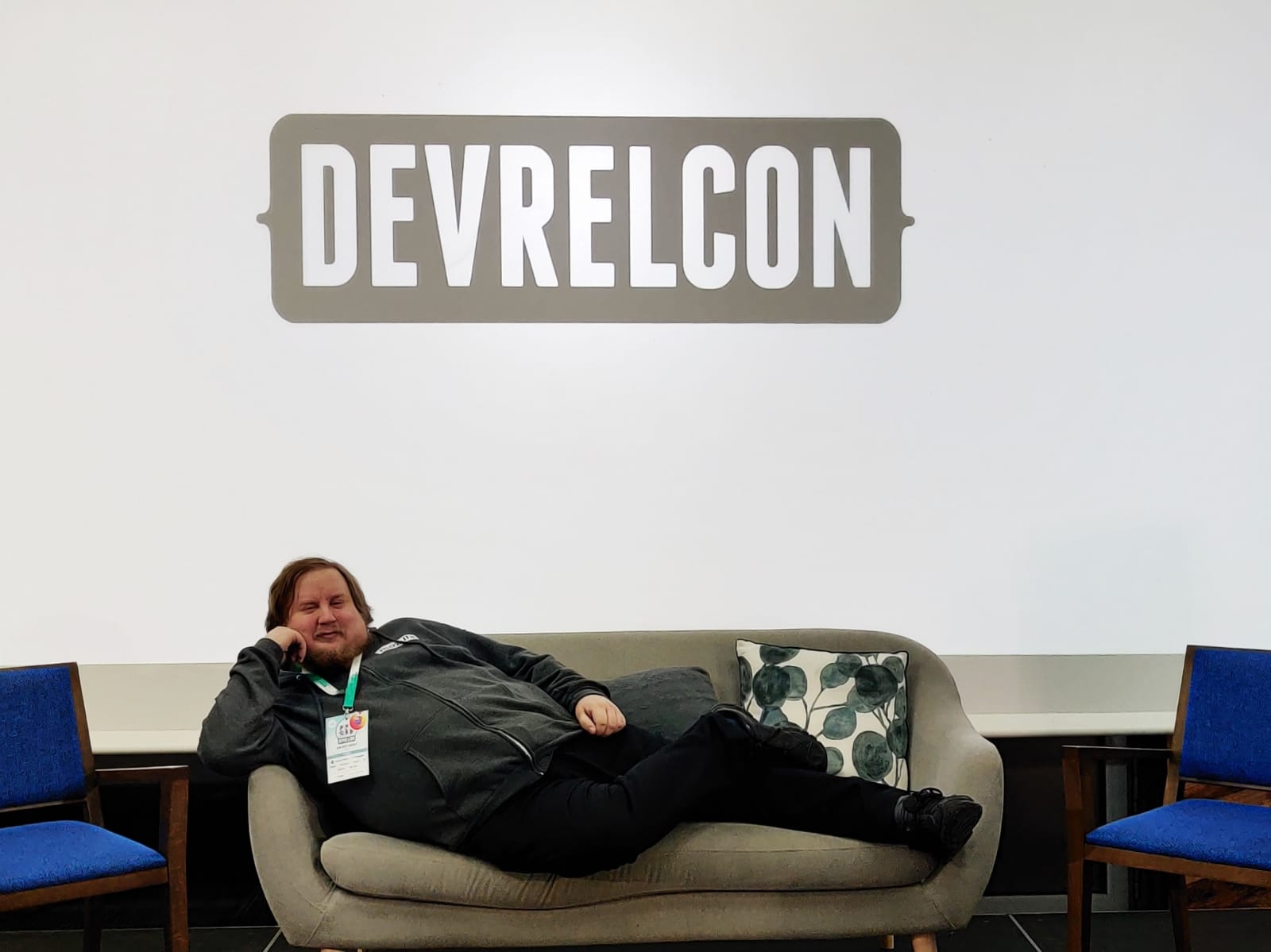 Back in person
Last year in DevRelCon Online 2021, I gave a talk about the juxtaposition of how a solo developer advocate can have the most social and the loneliest job at the same time. At the time, I got a few 👏 emojis in Discord and made a blunder that in my head didn't make the talk the best it could be.
I can say I was amazed by the warm welcome I got to this year's conference. So many people came to talk to me, giving positive feedback for the last year's talk. It was so cool to see these people for the first time face to face since I did give the talk to my plushies and webcam at home. (I had a similar experience in 2021 when I did a remote lecture at university in March/April and met the students for the first time in November and it felt nice to hear the actual feedback.)
The talk truly seemed to resonate with a lot of developer advocates who are working alone in their teams.
But it was also a bit absurd feeling as I've spent all my life kinda building small things at the northern isolated corner of Europe, away from most of the other DevRel world and somehow in this conference people knew me and what I do.
It was also lovely to catch up with some old friends (and some surprising reunions with people I didn't expect to see in DevRelCon) as well as make a lot of new ones.
The traditional pre-conference dinner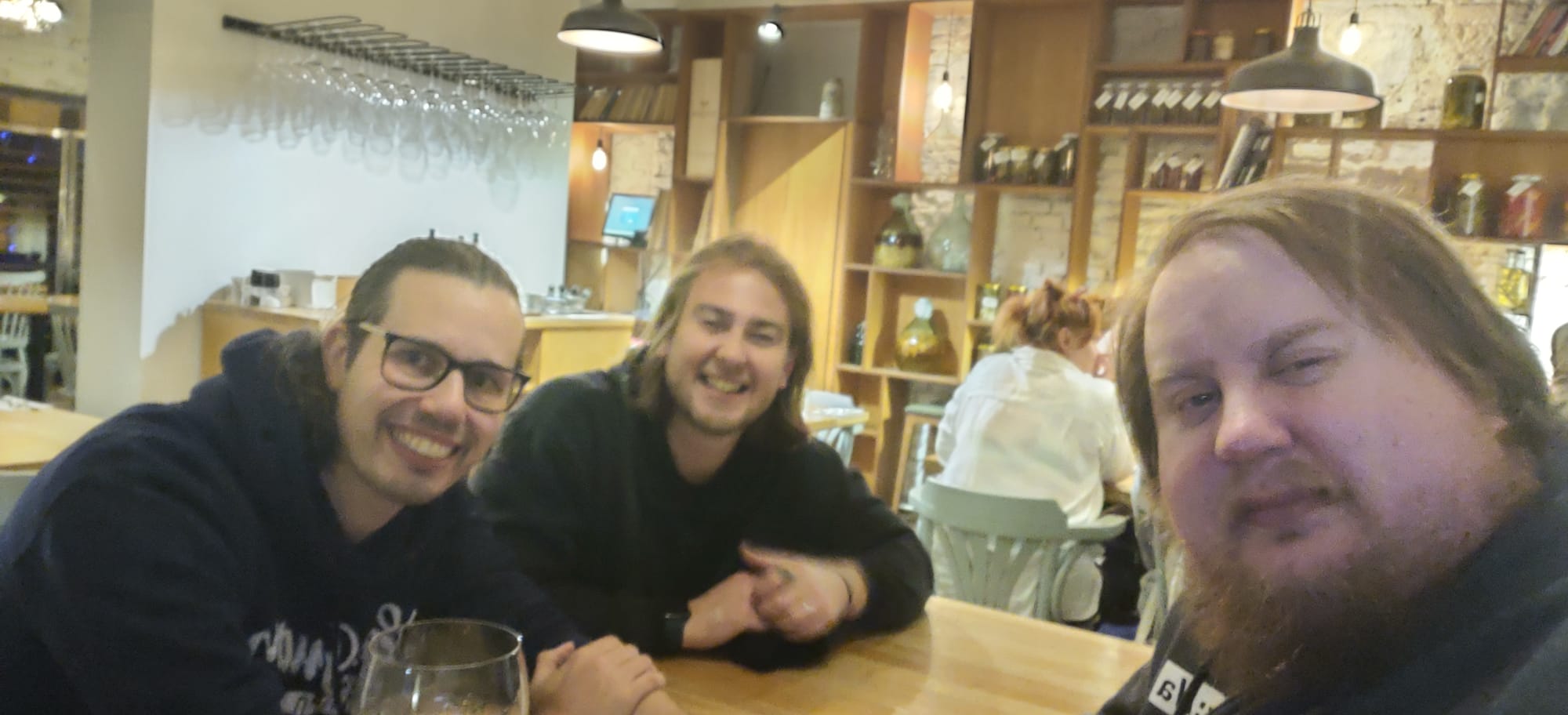 For me, meeting people and sharing the excitement over what we love to do is the best part of conferences. Since 2019, I've always attempted to get some pre-conference dinners done to meet people. This year was no exception. I invited some people to join in conference Discord and Marcus and Emillien answered the call and we had a lovely long evening discussing all things DevRel.
I'm still amazed how the super shy me turned out to what I am these days: not only participating in things but actively organizing social gatherings.
First day!
The first day of the conference was really good. In addition to catching up with old and new friends and discussing the usual DevRel concepts like neurochemistry, nicknames & personal branding, societal revolution and enjoying life, there were a couple of really good talks I want to highlight that hit home for me.
The talks are likely to be shared online at some point and at that time, I'll add links to them.
Toying With People's Emotions: A Cognitive Theory of DevRel by Don Goodman-Wilson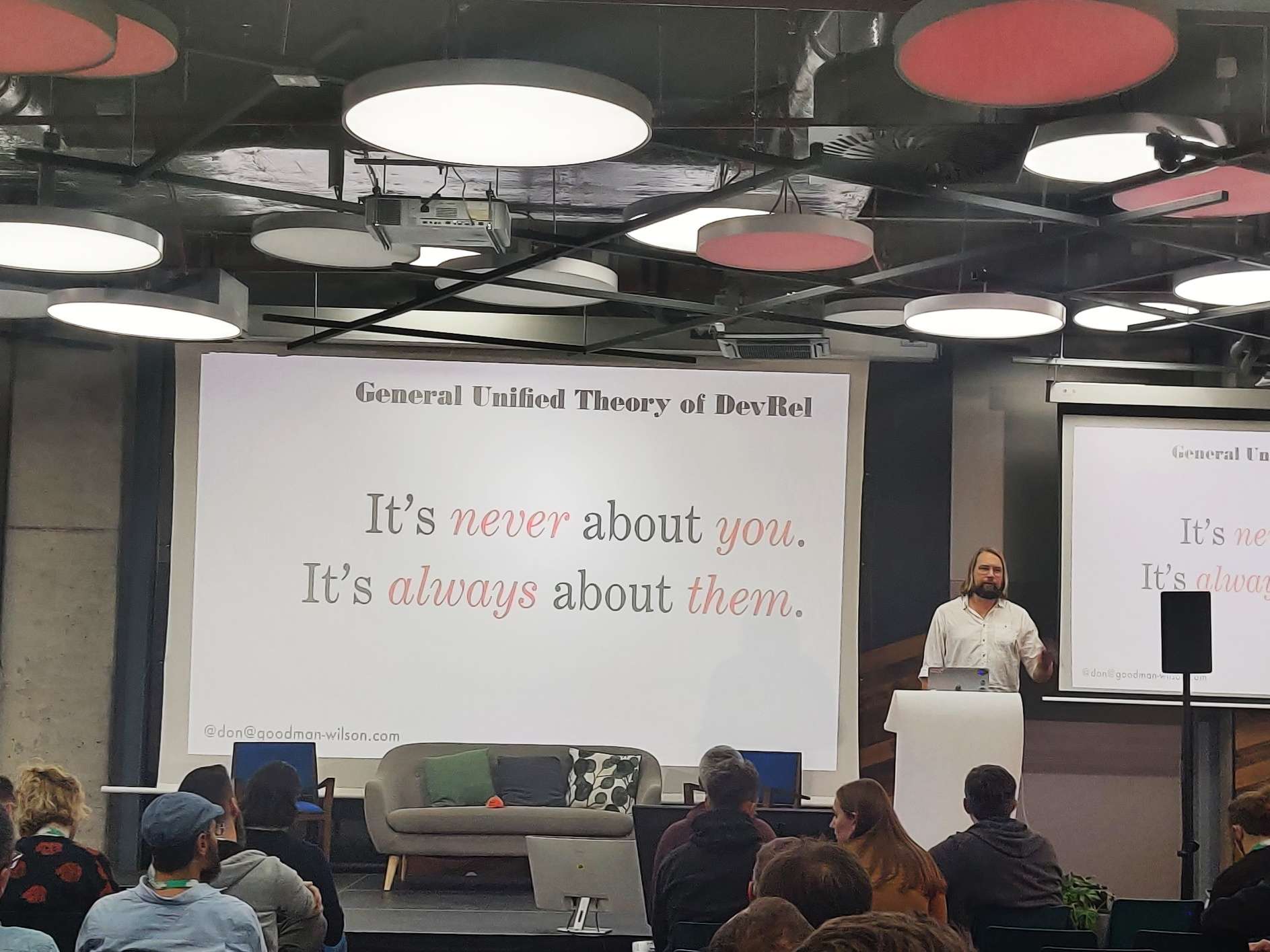 By far the one that had the biggest impact for me was Don's talk at the end of the day. I've been building communities for nearly two decades (20-year anniversary coming up next February) and I've been successful with that not quite understanding why.
Don talked about mainly about oxytocin as the neurotransmitter of love in the context of building communities and so many things clicked in my head. I've always been focusing on things like making community members feel welcome and appreciated; building long-term relationships through repeated social interactions and community participation; and with a lot of empathy, care and kindness.
It was lovely to have someone say it out loud and in a structured format that helps me put it into words in the future as well.
Beyond the kitchen sink: making the case for small demos by Kevin Lewis
The talk I was most looking forward to was Kevin's talk about small demos. I'm a huge fan of building small demos that introduce or demonstrate a single concept in a very concise and recipe-like format.
Kevin demonstrated in the talk brilliantly the different types of demos from simple atomic demos to more complex and fully-featured kitchen sink demos.
This combined with a great discussion that I had with Marcus on the pre-conference dinner about designing and creating learning paths gave me a lot of inspiration and new ideas on how to approach developer education in this context and how to help developers learn the tools better.
Turning Users Into Advocates, at Scale by Karin Wolok
The third talk I want to highlight from the first day was Karin's talk about the processes and paths you can build to help your users become more engaged and active in the community with small steps that don't overwhelm them from the beginning.
An effective way to scale DevRel is through community champions/ambassadors, people who become so active in the community that they help run it and help other members in the community to find help and inspiration through interactions with each other.
Second day!
I missed the first block of the second day when I stayed in the hotel to take care of community admin work for other communities but I'm really looking forward to catching up with Brandon West's How effective DevRel helps build great companies when it becomes available.
Building a champions program from scratch: tips, lessons learned and more by Ully Sampaio & Seeding an ambassador program by Rebecca Marshburn
On the second day, there were two fantastic talks about building ambassador/champion programs. It's always been one of my favorite methods in community building, no matter if I've been the one building or being an ambassador.
Ully shared her work building Elastic's champions program from scratch, starting in Brazil and expanding to global reach and how their program selects the champions and rewards them for their contributions.
Rebecca focused on the first steps of starting a program and planting the seeds. She explained with very practical examples how they started their ambassador program at Common Room.
My first experience with ambassador programs was when I was an ambassador for Buffer in their Community Leaders program. After that experience, I was sold with the idea. Arielle shared some great tips in that blog post for anyone looking to start one so read that while you wait for these videos to arrive.
Lightning talks by Marc Duiker, Eti Noked and Olena Kutsenko
In the lightning talks block we saw three very different topics by three amazing speakers.
Marc opened the session by sharing how he's been using his pixel art hobby to complement his community work and how one can build their personal brand and build an audience through their non-technical creative work. Eti talked about the work they've done at Wilco to empower developers. Olena brought in the science to help fellow speakers calm their nerves short and long term before getting on the stage to speak.
One DevRel hat and 500 devs to wear it by Alena Osipova
Alena's talk about how she and her team are building internal community with Kiwi's engineers and empowering their developers to participate in the community resonated very much with me as there was so much in common with the work I did in my previous job at Futurice.
Building a developer community culture internally at the company is not an easy feat but I do think it's an undervalued and underused opportunity for many companies. Bringing people to share their expertise in the community through talks, blog posts, articles, workshops and community participation is such a powerful tool in the brand awareness, employee retention and talent acquisition and growth of the engineers.
Prague is beautiful as always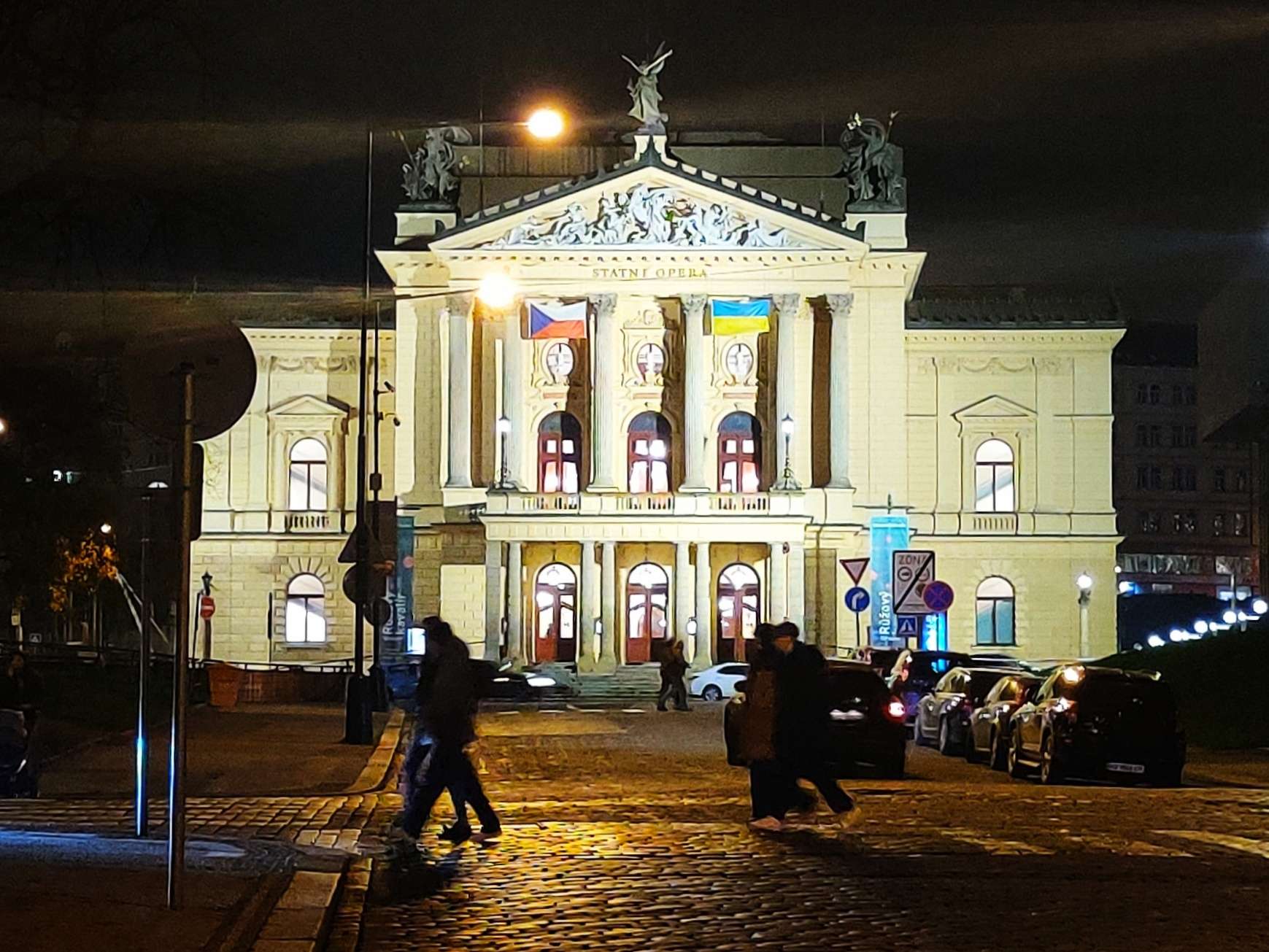 I'm always happy when I get to visit Prague. It's such a lovely city with many friends, good beer and food and so much to see and experience.
When traveling to Prague, I also always get to experience my favorite train ride in the world, the leg between Děčín, Czechia and Bad Schandau, Germany. The tracks go alongside a river and on the other side of the river there's hills and houses on the hill side. Every time I'm glued to the window between those two cities and I just admire the beauty of it all.
I also had some time to catch up with old friends from previous Czechia trips and a day to admire the city.
Quick recommendations
If not for anything else, this is for my next Prague trip:
Thank you all!
Big thanks to Matthew and the team for organizing another stellar DevRelCon. Big thanks also to all the speakers for sharing and inspiring. And the biggest thanks for all the old and new friends I got to meet during these 4 days in Prague and have brilliant discussions. This was definitely a top highlight of my 2022.
Other people's experiences
I wasn't the only one at the event and not the only one who shared their experience in the blogosphere (btw, blogosphere > metaverse any day).
If you wrote about the event and are not on the list above, ping me in Mastodon, I'd be happy to add it to the list!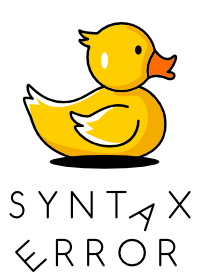 Sign up for Syntax Error, a monthly newsletter that helps developers turn a stressful debugging situation into a joyful exploration.