Projects I'm proud of: Turku ❤️ Frontend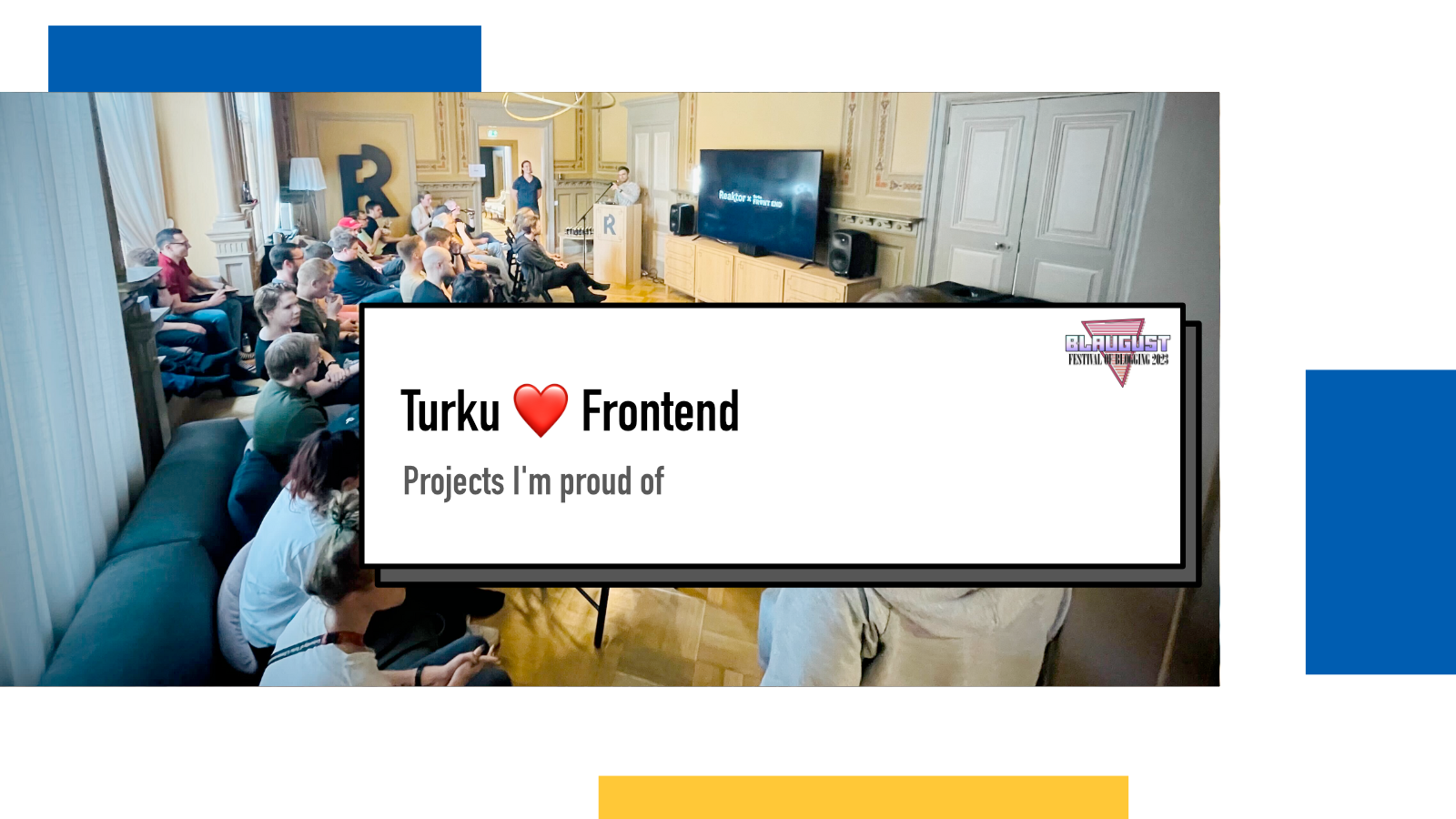 Blaugust is a month-long event that takes place in August each year that focused on blogging and other serialized content. The goal is to stoke the fires of creativity and allow bloggers and other content creators to mingle in a shared community while pushing each other to post more regularly.
This week's theme is Introduce yourself and I decided to do that through sharing a few projects that I've done since I think these stories will share quite a bit about who I am as a human being as well.
Turku ❤️ Frontend is the community and the project that I'm most proud of in the world. In my early-to-mid 20s, I struggled a bit because everything I was working on was a project created by someone else. I really wanted to find something in life that would be my creation and that would grow into something much bigger than that. Turku ❤️ Frontend became that.
Now, I've been running it for 7.5 years and the community is more active than ever.
From humble beginnings
In 2015, when I had done a career switch from software development to community management (see yesterday's post about Boost Turku), I wasn't sure if I'd stay in the new field. I wanted to make sure that if I'd end up returning to a dev job after my time at Boost, I'd still have some clue about development.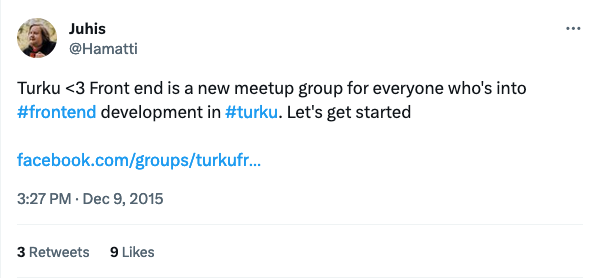 In December of 2015, I sent a tweet and a Facebook post suggesting a meetup group for developers and students interested in frontend development. In quite a short time, the initial Facebook group grew into dozens and then crossed 100 people, mostly from people I knew from university and startup scenes.
In a follow up tweet I tagged every tech company I could think of and some of them replied with an enthusiatic yes.
Sidenote: The meetup group wasn't the real first iteration though. I originally planned to start a small, maybe 4 people lunch & learn group with whom we'd gather for lunch once or twice a month to teach each other something. Before the first lunch, the group had already turned into a meetup group. The lunch concept ended up kinda happening in 2019 when I started Helsinki Dev Lunch.
Our first meetup was hosted at Poutapilvi, had two speakers from a fellow dev community HelsinkiJS and we had around 25 developers in the audience.
This was during the time in Turku where there were not really active developer communities. There used to be some but most had stopped or were nearly done.
Promoting positive developer culture
During the non-summer months, we organize monthly meetups where we get a couple of speakers to do 30-minute presentations about various frontend related topics, hosting them in local tech companies' offices.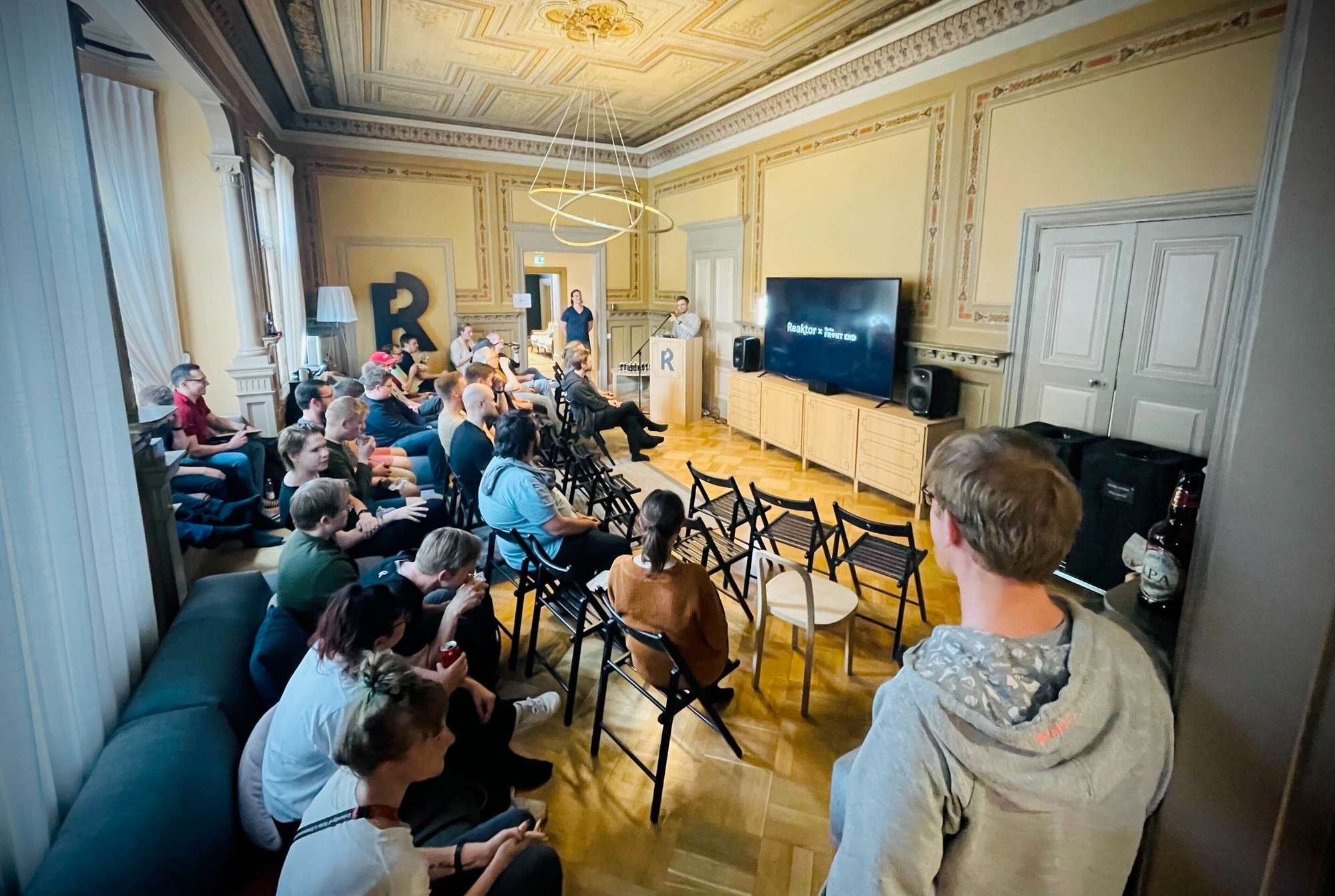 We want to provide an opportunity for developers to see different companies and their cultures through visiting the offices and offer opportunities to have discussions with the speakers, the hosts and the fellow participants. In our latest meetup, we started with a pizza baking workshop where everyone got to make and bake their own pizza in pizza ovens before we kicked off the tech talks.
We want to encourage new people to try out public speaking and offer opportunities for speakers to share their knowledge, practice their craft and gain new audience.
Before, between and after the talks we have time for the community to mingle – which I think is the most important part of all this. We usually continue the night in some local pub for more discussions after the official program is over and the doors to the office closed.
We also do other stuff: we've organized a hackathon, a Code in the Dark competition, Turku Gives Back open source campaign and a brewery tour (with some tech talks mixed in).
Our community members have organized book clubs, open source projects, dev lunches and after work sessions too.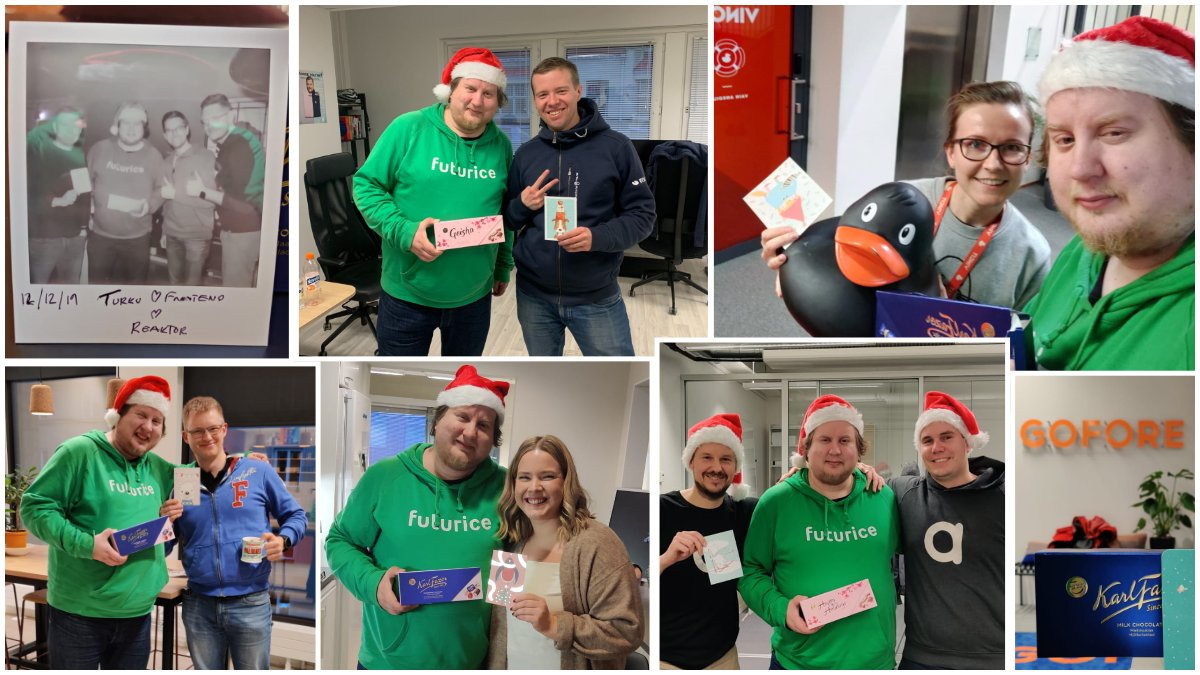 For me, it's always been important to take care of the people who make it possible for me to organize all these things. Before the pandemic, I used to do a Christmas tour, visiting all the offices of that year's sponsors, bringing them chocolate and Christmas cards and taking selfies to say our thanks and celebrate the holidays.
New friends, new careers, new communities
A lot of good has born out of the community. Many, me included, have made new friends by meeting them in our events, finding something common and going with it.
Many people have found a new job and a lot of prominent tech companies have opened offices in Turku since and we've been doing what we can to help them get involved with the community and find talent.
Together with my journey at Boost (see yesterday's post), this one was a career changer for me as well. By running the community with our team, I realized that I have a knack for building developer communities which turned into a Developer Advocate career and landed me a job at Futurice (more of that tomorrow!).
We've also inspired others to start organizing tech meetups. Namely, information security focused TurkuSec and more general themed dev meetup Aurajoki Overflow (we had a lot of fun with Matias brainstorming for a name for that meetup).
At the time of writing this, we've had 50 meetups with around 500 different people participating. That's a positive impact being built there and we're nowhere near finished – there's way more to come!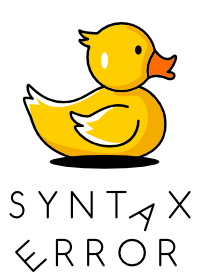 Sign up for Syntax Error, a monthly newsletter that helps developers turn a stressful debugging situation into a joyful exploration.