Rails Girls San Francisco

After coaching at Rails Girls Helsinki last November and getting a job in San Francisco, one of the first things I did was checking out if there would be a Rails Girls event here too. And how lucky was I. Last weekend, almost 100 enthusiastic girls and women took their laptops and came to Engine Yard for two-day workshop to learn about web development with Ruby on Rails. Since I already wrote about Rails Girls after the last event, I won't dig too deep into what it is.
In Helsinki, most of the participants were people who had no previous experience on programming but here in San Francisco it was a bit different story. Many girls had done some coding or even worked as web developers but wanted to learn Ruby on Rails to go deeper to the rabbit hole. From a coach perspective, it makes a difference. When teaching basically same things to people with no experience at all and to people who work as developers, you really need to take a different approach. Coaching both different groups was equally fun but in different ways. In the event, I shared a group of three students with a fellow coach and the event having much smaller student per coach ratio gave us an opportunity to give even better personal coaching throughout the day.
Before the event, I was so nervous. I wasn't completely sure if my skill set would be at San Francisco level but quite quickly I found out that it's really the same thing everywhere. On Friday between work and installation party I learned how to install Ruby on Rails to OSX Mavericks, now that I have one myself. The installation party was a huge success. It was so great to meet all new people, hear their backgrounds and motivations for coming to Rails Girls and talking about things beyond just the workshop.
For Saturday, we had slightly different program than we did in Helsinki and that is one thing I love about Rails Girls. It is not too strict with all those rules that what the event has too look like. It's all open source and every event looks like their organizers and participants. We started with quick intro to tryruby.org and then went to coaching groups to go through the basic tutorial. Around lunch there were couple of lightning talks about Git and databases as well as the bento box exercise. After that we continued with extra tutorials about deploying to Heroku, adding user control, commenting system and all the cool stuff.
And of course, because Rails Girls is not only about coding but about networking and meeting new people, the after party on the rooftops was so awesome. It was nice to reflect with everyone how they felt about the day and to talk with people who had come to San Francisco from all around the country and the world. As it's only been 18 days since I moved here, it's always fun to hear other's experiences about moving to Bay Area.
If you have always wanted to learn more about tech, web development and coding but have never quite figured out how, I can honestly recommend Rails Girls. Check out the next local events on Rails Girls website and participate!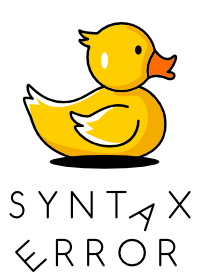 Sign up for Syntax Error, a monthly newsletter that helps developers turn a stressful debugging situation into a joyful exploration.