You should start a blog today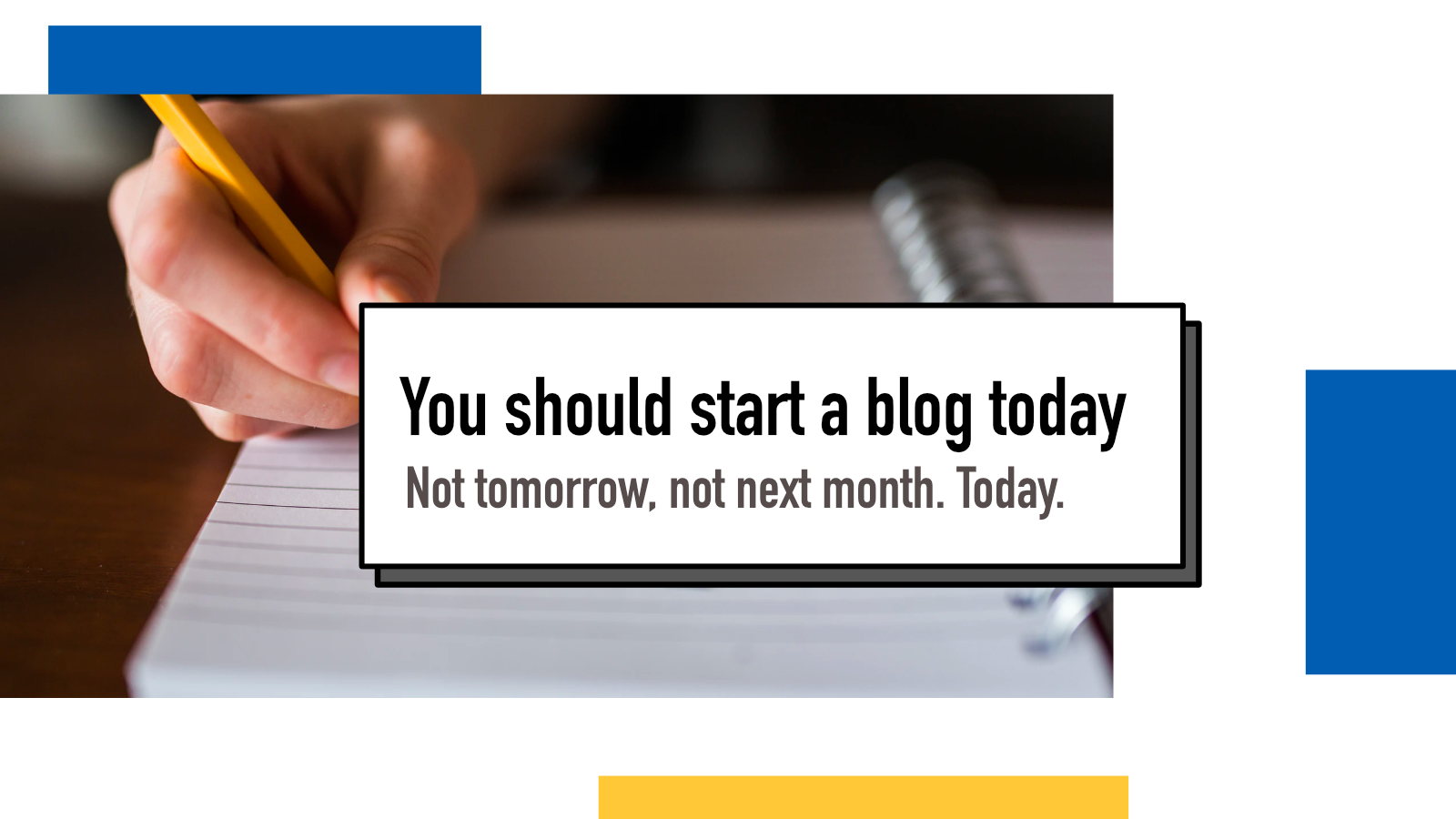 I've been blogging on/off occasionally since 2013. Last year, my goal was to publish a blog post every Wednesday and other than starting a bit late and having couple of rough months, I'm really glad with my blogging efforts in 2020.
In this blog post, I'll try to convince you that you should start your own blog right now.
"A year from now, you will wish you had started today." — Karen Lamb
There are different motivations and goals for blogging. I'm gonna talk about a couple of them but one thing I won't be talking about is monetizing your blog and making money as a blogger. I don't know anything about it: my blog is not making me a single penny directly. If you want to learn more about that, I recommend checking out Monica Lent's Blogging For Devs and Stephanie Morillo's content. They also provide good insights into what kind of content to focus on if you want to build a successful blog – mine is as messy as the thoughts inside my head.
Instead, I'll focus on a couple of other aspects of blogging. I'm ordering them from the most important to the least important.
Blog for yourself
Start writing a blog for yourself. It doesn't have to be a weekly blog or even a monthly blog but getting into a habit of writing down your learnings, setups for projects, your thoughts and ideas or sharing your knowledge is very helpful. When I need to do some web scraping after a while, I always start from my How to scrape a website with Python & BeautifulSoup blog post to give myself a refresher on how to do it.
If you don't want to do a full-blown blog, I recommend adopting Ruksi's style. He writes short notes on different topics in a format that doesn't require a lot of prose writing but still captures the information in easy-to-consume form.
I have also been writing about my personal life and other non-professional topics for years. While it didn't feel like much in 2016 when I wrote my first Year in Review blog post, in 2020 it's nice to be able to go back and read through my thoughts, my fears and aspirations and my recollection of each year because life gets busy and it's easy to forget. Now I have 5 of them written and collected in my own blog with the 2020 Year in Review published last week. I don't care if anyone else likes those posts or even reads them. I write those specifically for myself.
Build a body of work
One huge mindset thing I learned from my buddy James is to build a body of work. While my blog does not directly make any money, indirectly it can have a huge effect on my career. One day, I'll have years worth of weekly blog posts on technical things, community building and personal stuff and all of those can contribute positively when I'm applying for jobs or getting invited to speak in events.
If I apply for a conference to talk about topic A, I can link to a few blog posts and maybe one or two previous talks about the topic because I've spent years creating that content.
I also often blog about things that I get asked about or I run into all the time like debugging. Rather than having to explain it all through from the beginning, I can give people my content as a starting point (or I can check my content to make sure I'm talking with them about all the important topics). As I've been teaching programming for a while now, it's become such a timesaver for me.
I'm still very early in my building process. But like Karen Lamb said in the quote in the beginning of this post: when you need it, you wish you had started way early.
Improve your writing skills
One great benefit of regular blog writing is that it will improve your writing skills. And writing is so much more than just typing words: it's about structuring your thoughts, finding interesting ways to convey the message and making it easier to transform your thoughts into writing.
All that is beneficial even if you don't plan to become the next Pulizer prize winner or lifestyle blogger. In today's work life, the ability to communicate in writing is crucial. Whether it's writing documentation as a developer, chatting with your colleagues in Slack/Teams/Discord or writing reports, it all benefits your career.
And who knows: maybe you end up like me and actually get really excited about the writing itself and then you're happy that you started.
Gather a following
One thing I've learned from creative people in my life is that if you want to launch something cool one day, it makes a huge difference if you have been creating and gathering a following much much before the launch. My dream is to one day build some online learning courses (in style of Wes Bos' courses) and writing a blog and Humane Tech Guides is not only a practice for that but also a way to slowly get on the radar of people who might be interested in the educational content down the line.
That's why at the end of this blog post, there's a newsletter sign up form so people can sign up for my monthly newsletter in which I share what I've been up to but also share links to good content by great people that I've enjoyed that month. Over the years, I hope that newsletter to gain followers who enjoy what I do and when I eventually get there with the courses, I'll have those people to tell about it.
Where to blog?
I recommend having your own blog.
But more important than that is to start somewhere and keep local backups of your blog posts. For technical blogs, DEV is a very popular place and it can gain good writers nice visibility. My reader count plummeted after I moved away from DEV to my own blog but I still prefer building it long-term on my own blog. And there's always the option to cross-post in both while pointing the canonical url into your own blog for extra Google visibility.
If you want to start your own, running it on something like Wordpress or Ghost are easy ways to start. Or you can do what I did and build your own site with static site generators, maybe following my 3-piece tutorial starting here: Building a website with a static site generator, part 1: Setup.
Once your blog is running, consider adding an RSS feed.
---
And if you don't believe me, maybe you'll believe Seth Godin.
Other people have also inspired my with their writing on the topic
If you have started a blog recently or started after this, I'd love to know! Tweet at me (@hamatti) with a link to your blog.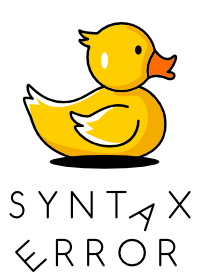 Sign up for Syntax Error, a monthly newsletter that helps developers turn a stressful debugging situation into a joyful exploration.